Background and Theory
In 2005 I developed the class Religion and Sports at Syracuse University (SU). Combining face-to-face traditional classroom and online versions of the course this year, I will teach close to 550 students in this class alone, making it not only the most sought-after course in our department, but also one of the most popular electives at SU. This is not to boast but to use this example as an appeal to faculty of religion to make our subjects more integral to the lives of our students.
Like many universities, SU is known as a big sports school. Although basketball and football are most well-loved, as they are here and elsewhere, it is lacrosse that inspired the creation of this class. SU is well known in the lacrosse world for having won 11 NCAA National Championships. As with Baltimore, Long Island, and Boston, Central New York is also known as a hotbed of lacrosse. Unlike those places, which are associated with prep schools or the Ivy League, SU lacrosse is associated with the Haudenosaunee (aka, the Iroquois—a derogatory reference assigned by 17th century Jesuits), about who I teach in the area of Native American and Indigenous religions. The Religion and Sports class enables me to help students better relate to issues in Native American studies and religious studies through something they love—sports at SU. After 20 years of teaching, I in turn have become a dedicated "orange" fan, which is something I share with my students.
In addition to a professional interest in lacrosse, my college-age twin sons (citizens of the Oneida Nation of Wisconsin) have been playing competitive box lacrosse for the Onondaga Nation Redhawks since they were three years old. The Onondaga Nation is the "Central Fire" of the Haudenosaunee Confederacy—the home of Iroquois Nationals Lacrosse and where Haudenosaunee passports are issued to all their citizens. My wife, Sandy Bigtree, is a Mohawk Nation citizen at Akwesasne, but she grew up here in Syracuse. In addition to teaching, I am also director of an academic collaborative with the Onondaga Nation leadership, who created Skä·noñh—the Great Law of Peace Center. Pedagogically, therefore, my way of teaching sports is deeply connected with local traditions of the Onondaga Nation and the Haudenosaunee, the SU sporting legacy, and a personal family history. So this class introduces students to theories and methods in the academic study of religion, using the history of religions framework, with emphasis on the work of Mircea Eliade, Charles H. Long, and Marcel Mauss, as an interpretive method to approach Native American/Indigenous Studies.
Teaching Strategy
In 2012 I published a book taken from the lectures of my class Religion and Sports. It is titled The Gift of Sports: Indigenous Ceremonial Dimensions of the Games We Love, which now serves as the textbook for the class. The class is organized into separate topics for each week. Every other week, students post a short paper on a specific topic and are then required to respond to each other's writing. In total, there are seven short papers posted on Blackboard. In recent years, students have opted to submit short videos for their final projects. Their task is to apply concepts of the class to some sporting phenomenon (an athlete, event, or venue). Videos are the medium that students most closely associate with sports and, contrary to my initial trepidation, their video submissions have turned out surprisingly well.
Because this class attracts students with no previous background in the academic study of religion, I have to start with basic information. For the first paper we talk about identity issues (what does it mean to be "Orange," or an SU sports fan) and the differences between using sports to promote a specific religion (initially, Tim Tebow's praying on the football sidelines is the favorite choice) and the more deeply embedded religious dimensions of sports. It is generally difficult for students to appreciate this reorientation of "sports as religion." Initially, we talk about the ambiguity of religion by looking at different definitions, and I ask them to apply these various ways of looking at religion to redefine their relationship to sports.
In the second paper we are introduced to the central themes of the class: sports (and religion) as gift exchanges economy. Using examples from Indigenous ceremonial traditions, students address what exchanges are happening in sporting events between and among gifted athletes, fans, officials, coaches, and sports venues. Analogous to religious ceremonies, sports can be seen as a series of exchanges between seen and unseen forces. This "gift economy" is surrounded by a very powerful monetary economy that indicates the relative value of a sport (men's basketball over women's basketball, for example). At the same time, however, the monetary economy cannot interfere on the field, so to speak, with the purely gift economy between athletes. That is called cheating. Students assemble a glossary of terms in order to use these ideas and concepts when thinking about the religious dimensions of sports.
The remaining papers for the class deal with an array of topics including the gifted coach (or the philosopher coach of ancient Greece); the ancient and modern Olympics; racism, sexism, and environmental issues in sports; the Native American origins of American football; and finally the Haudenosaunee and lacrosse. With each paper I ask students to react to each other's writing by submitting comments on Blackboard. There are two extra-credit opportunities on the Superbowl and male identity in sports. In spite of the traditional face-to-face version of this class, which has reached about 300, we get to schedule a couple of "field trips" to SU's Carrier Dome. Last spring, we heard Oren Lyons, an esteemed alumnus from the Onondaga Nation; and had a visit from a world-renowned wooden lacrosse stick maker from the Onondaga Nation, Alf Jacques. In past years we have also heard from the famous emeritus coach Roy Simmons, Jr., and the great Floyd Little.
Conclusions
There are numerous religion and sports classes being developed around the world. This area is a growing edge of religious studies, and there is no single set criteria for teaching these classes. My strategy is to utilize something obvious in the student's life that they love and regard so highly, so they can think more critically about the religious dimensions of their everyday lives. When speaking about sports, they often refer to religious categories without really appreciating that fact. Discussing games when something remarkable occurs, a manifestation of some unique athletic ability that is unseen until revealed in the event, is akin to what we might call the "hierophany." Sports is an obvious vehicle for talking about a hidden world that can be revealed in a wondrous moment. Sports is also where the most egregious acts of greedy behavior can also be seen by all. Doping scandals, sexual abuse scandals, examples of domestic violence perpetrated by athletes, illegal money transactions, NCAA corruption, cheating, racist and sexist chants by fans and players. One can also be highly critical of sports traditions too (as with Native American mascots) in an open and competitive way, making it a perfect medium to talk about the controversial nature of religion. These are all examples of the violations which keep us from fully experiencing the gift of sports.
I think these classes are successful to the degree to which they can utilize local, regional, and national sporting traditions. This is one reason why I have used Indigenous ceremonial traditions in this area, as a way of appreciating the student's commitments at this place called Syracuse. I couldn't teach this class, as it is currently conceived, at another school location. Sports is fiercely local and this class has to draw on that energy. When students can see gift and monetary economies in contrasting situations, this will help them to more clearly understand both sports and religion.
---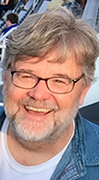 Philip P. Arnold is associate professor and chair of religion and Native American studies at Syracuse University. He is the director of the Skä·noñh—Great Law of Peace Center (www.skanonhcenter.org/). His books are Eating Landscape: Aztec and European Occupation of Tlalocan (University Press of Colorado, 1999); Sacred Landscapes and Cultural Politics: Planting a Tree (Routledge, 2001); The Gift of Sports: Indigenous Ceremonial Dimensions of the Games We Love (Cognella, 2012); and Urgency of Indigenous Religions (University of New Mexico Press, forthcoming). He is a member of Neighbors of the Onondaga Nation (NOON). He established the Doctrine of Discovery Study Group and the Indigenous Values Initiative, a nonprofit organization to support the work of the Skä·noñh—Great Law of Peace Center.
---
Image: George Wilson, safety for the Buffalo Bills (American football), prays before a game against the New York Jets. By Ed Yourdon (Flickr: NY Jets vs. Buffalo, Oct 2009 - 02), via Wikimedia Commons